ARE YOU LOOKING TO FIND A CHAUFFEUR SERVICE FOR A BUSINESS TRIP NEAR CHICAGOLAND AREA?
The chauffeur is derived from the French word "chauffeur." Which means "to heat" or "one that heats." Ah, yes, 1917 – the year when this term made its grand debut. A chauffeur is like a personal driver, but with a touch of class – think luxury vehicles and a fancy hat.
This chauffeur is basically a car whisperer who pampers his passengers and their luxury vehicle with utmost care. Not only are these chauffeurs well-trained, but they also come with a license to drive and a fashionable uniform to match. They are bound to make their passengers reach their destination on time.
What are the duties of a chauffeur service for a business trip?
Hiring a chauffeur for your business trip means you'll have a designated driver who's not only licensed and trained but also knows their stuff and keeps up with the latest training. No need to worry about a wild ride with this responsible driver! A chauffeur has many responsibilities, which are;
He observes traffic rules.
He takes care of other vehicles on the road.
He drives carefully.
He treats his passengers with courtesy.
He delivers passengers safely to their destination.
He takes care of vehicle maintenance.
He safely transfers passenger luggage to the vehicle.
He is punctual.
He always keeps an eye on weather conditions and traffic conditions.
He knows how to use GPS tracking and road maps.
Limo rental services
The Limousine with Chauffeur service is considered one of the most luxurious vehicles of modern times. Limousine travel is very comfortable, safe, and luxurious. Gone are the days when limousines were reserved for the elite. Now, even we commoners can feel like royalty with a rented limo and a personal chauffeur.
These rental companies are like the Swiss Army knives of transportation, offering rides to and from the airport for all your fancy events – weddings, proms, bachelorette parties, business meetings, you name it!
These services provide comfort, luxury, and style to companies.
Because a Limousine is one of the vehicles that provide you safety, comfort, and convenience, using a limousine for any occasion also plays an important role in making your function and occasion spectacular. These services provide you with different limousines depending on the occasion and your need. Limousines are of the following types
Hummer Limousine
SUV Limousine
The Convertible Limousine
Lincoln Limousine
Limo Bus
Classic Vintage Limousine
Limousine rental companies provide services that include:
Chauffeur service for business trips
Black Car Service
Prom Limo Service
Wedding Limo Service
Corporate Limo Service
Professional Car Service
Meet and Greet Service
Hourly Executive Transportation Service
These rental companies have set some preferences to provide the best service to their passengers. These preferences are as:
These companies provide very affordable, comprehensive, and the best services.
All recruited chauffeurs are well-trained and licensed.
These services are available 24/7.
The safety of passengers is ensured.
Traffic rules are strictly followed.
Special attention is paid to punctuality.
How do Limo services hire a chauffeur?
Chauffeurs are an important and special component of Limousine companies as they are the ones who are in direct contact with the passengers and take responsibility for escorting them to their destination. The growth of Limo companies depends on their best chauffeur service for a business trip. These companies have chauffeurs, who are well-trained, licensed, experienced, and hospitable, and take care of the needs of the passengers.
When hiring a chauffeur service for a business trip, the service knows that its success now depends on that chauffeur because you refer your esteemed passenger's lives and belongings to that chauffeur. However, these services take special care of certain affairs while hiring these chauffeurs, such as;
Their driving experience is checked.
They get to experience different driving types of vehicles.
He has received full training to become a chauffeur.
They should have received thorough training to treat passengers in a better manner.
They have to know how to transfer their passengers' luggage to the vehicle.
They come with GPS tracking and map reading.
They are fully aware of the surrounding traffic conditions and weather conditions.
They know how to drive carefully in all kinds of conditions.
They should have basic knowledge about the maintenance of their vehicle.
They are well aware of the ways of their city.
The chauffeur must be hospitable and good-natured.
How To Hire Limo Service for Business Need?
Limousine is the name of style and class. Many businesspersons and reputed companies, who organize events for their high officials, employees, and guests, are the priority to contact a reputed Limo service for business purposes. These Limo services are like mind readers, they cater to your every whim and fancy without you even having to ask. From touchdown to takeoff, we've got your back. Whether you're wining and dining clients or just need a lift to your next meeting, our airport pick-up and drop-off service has got you covered.
Meet and greet service is also provided at the airport. These Limo services for businesses ensure the safety of their passengers. Our vehicles are so clean, you could eat off the floor mats. But please don't, we prefer you to enjoy our disinfecting efforts from a safe distance. Your personal chauffeur will be eagerly awaiting your arrival at the airport, armed with a dazzling grin and the ability to track your flight like a hawk. As soon as your flight lands, he receives your belongings from you, guides you to the Limo, safely transfer your belongings to the car, and opens the vehicle's door for you.
Each Limousine has comfortable couches, leg-stretching space, a bar and champagne glass holder, and LCD. LED lights, music system, air conditioner, intercom, tinted glass windows, and Wi-Fi. The environment inside Limo is very quiet and comfortable, so you can easily prepare for your business meeting if you want to send a file or email to someone or talk on the phone.
Chauffeur Service for Business Trip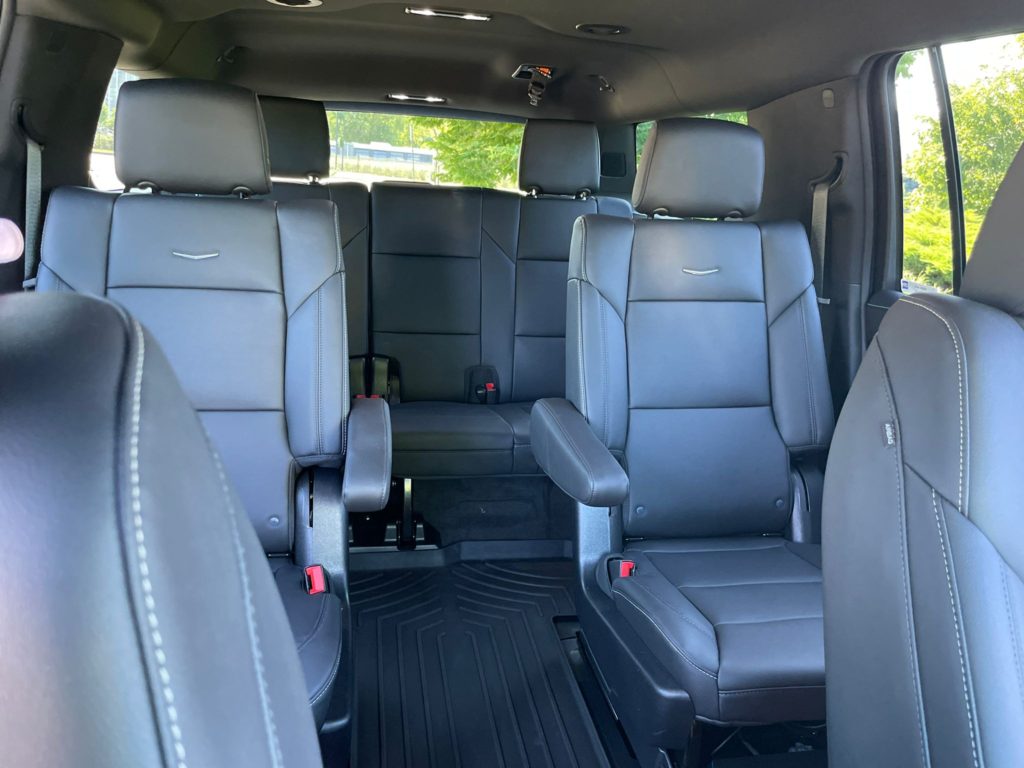 A Corporate Event refers to such events organized by a business entity for its guests, staff, and other business officials. The employees, board members, and stakeholders are associated with the business in these events. These corporate events include seminars, conferences, company milestones, board meetings, trade fairs, exhibitions, and incentive and training programs.
These events may be organized privately by the company and may be organized for charity or purely for business purposes. All these events are organized for a substantial increase in profit, publicity and fame increase and reputation. These companies promote their business through such events because their employees from other companies get in touch with the official, which extends the business. The employees and different business companies connect through these events.
These corporate events also prove to be a means of gaining employees' loyalty and confidence. There are also opportunities to change business size from small to large. The employees get the opportunity to work as a team. Business entities also use media to promote their products to the public and discuss how they can use them. These business companies hire Black Car and chauffeur services for a business trips for corporate events to make a great impression on other business rivals. For these events, companies hire the services of Limousines to transport their employees and officials to the venue.
These chauffeurs track the flights of their honored guests. All business companies want the safety of employees to be a top priority, so this Limo and chauffeur service for a business trip is best. Limo companies and chauffeur services for corporate events know how to cater to the needs of business companies and provide every luxury and comfort in the vehicles; employees get special time to prepare for their meetings.
The hired chauffeurs are very hospitable and well-trained and know how to take care of their passengers' needs during the ride. These chauffeurs are professionally trained, and licensed, have passed their driving test, and are certified. These chauffeurs greet their passengers from the airport, track their flights, and attend to the passengers at the appointed time. Chauffeur service for corporate events provides a safe and comfortable journey.
Limo Car for Business Trip
Embarking on a corporate adventure to mingle minds and swap musings with fellow colleagues. Ah, the glamorous life of a business person – hopping from one branch to another, schmoozing with other companies, and attending seminars like a pro. These business trips range from one day to five to six days and can be within the city and country or to another state or country.
It can also be for a trade fair or a business party. The best way to reach the venue on time and safely is to pre-book a Limo car for a business trip. Your hired Limo car with a chauffeur welcoming you when your flight lands and your ride is at the airport to receive you. These chauffeurs are very professional and know how to greet passengers and transfer their luggage to the vehicle.
These Limo Black Cars are made according to highly modern technology. Therefore, customers get a chance to enjoy a quiet, comfortable, and safe journey. In these Limo cars for business trips, all the facilities are provided according to the passenger's needs regarding the trips' needs. This luxury trip help breaks the fatigue of airplane travel and prepares you mentally for the upcoming business meeting. Guests and passengers don't have to worry about finding a parking space or worrying about vehicle security arrangements.
It is the driver's sole responsibility to take you to your desired destination at all times and from there to take you back to your desired destination. The Limo car for business trip service provides vehicles for three to twelve people and a mandatory extra Limo bus facility. Many Black cars in Chicago, Illinois, are offering their services in this regard.
Limo Rental Services for Professional Event
A professional event is an event organized by any institution to achieve higher levels of education and information. These events include Seminars, Webinars, Workshops, Group Meetings, Roundtable Discussions, Sponsorship, Expos, etc., professional events are organized to achieve the objectives, and the best venue is chosen. The objective of these events is to increase sales, contact investors to provide information about their products, showcase the products, marketing of products, and hundreds of similar educational programs are organized.
For all these events, different venues like Seminar Hal, Wedding Hall, Recreational Hall, Meeting Hall, or any Open Space Venue are booked. Limo rental and chauffeur service for professional events are selected for transportation of guests and company officials at such events, and for this purpose, a Limo service is hired. This limo rental service provides excellent service with all the amenities for every occasion.
These services are very convenient with your budget, providing different packages and models of vehicles. These Limo services provide the best accompaniment that turns your journey into a beautiful journey. Booking these services makes it easy for you to be picked from your desired location and delivered to your desired destination with particular attention to punctuality.
The Limo rental and Chauffeur service for professional events ensure that you don't have to wait too long for a vehicle and the service provides a variety of vehicles to suit the number of guests and your needs. These Limo companies provide training to the chauffeurs with various opportunities to make their journey the best it can be. Hiring a reputed Limo service in Chicago, Illinois, means you are being provided with the professional service you deserve. Before providing these services, the company thoroughly checks its chauffeur's license, health, and vehicle condition.
It is ensured that these chauffeurs are not involved in any illegal activities and are professional drivers. These chauffeurs are responsible for safely securing the customers' belongings to the vehicle. Limo rental services for professional events, the main objective of these services is to provide you with top-quality service, which is why business officials and many organizations in and around Chicago, Illinois, prioritize using these services for their events.