How To Find Car Service From O Hare Airport To South Bend Indiana?
Are you looking for limo transportation from O Hare To South bend Indiana Or Car Service From O Hare Airport To South Bend Indiana and Midway Airport? No need to look further because we can provide you with the best solution to cover you! Here is the finding on the basis of Quality, Reliability, and on-time service.
How To Find Private Transportation From O'Hare International Airport?
Chicago O'Hare International Airport, also known as ORD, is located on the Northwest Side of the loop business district in Chicago. O'Hare Airport is spread over 7,627 acres area and receives lots of flights daily from all over the world and is considered the most connected Airport in the world.
At first, it was known as Orchard Field Airport and then renamed O'Hare International Airport in honor of Aviator Edward "Butch O'Hare." It is the fourth busiest Airport in the world, and hundreds of flights land and take off from here. The Aviation Department of Chicago operates this Airport. Let us know, from which Terminal you are traveling. If you are From International Terminal 5?
Terminals
O'Hare Airport has in total 04 Terminals, 09 Concourses, and 191 gates.
Terminal 1 contains 50 gates and two concourses
Terminal 2 has 41 gates and two concourses
Terminal 3 has 79 gates and four concourses
Terminal 5 has 40 gates and one concourse
Runways
O'Hare Airport has two sets of runways that are parallel to each other. O'Hare Airport has the most Runway in the world for civilian Airports. Three FAA towers controlled all Air Traffic.
Hotel
The Hilton Chicago O'Hare, situated between the terminal core and parking garage, is owned by the Aviation Department of Chicago and operated through an agreement. The pickup procedure for the  Hilton O'Hare is between terminal 2 and terminal 3, and the driver has to use the 3rd lane in order to reach the Hilton Chicago O'Hare.
Do you need the Car Service From Hilton O Hare To South Bend Indiana? Must check the Google rating before booking your car.
Transportation
Free shuttle buses are provided 24/7 at the ground level of the parking garage between terminals 1-3. Public Transport Buses also run at O'Hare Airport. A local Train station is also accessed on the lower level of the parking garage and has direct access to Terminal 1-3 via Tunnel.
What is the name of the Airlines For Terminal 1 O'Hare Airport?
As far as the Ground transportation procedure is concerned. If you want to hire a Private Car Service Or Car Service From O Hare To South bend Indiana? Then must book in Advance by searching online. No matter if you are heading O Hare To South bend Indiana or anywhere in the Chicago land Area, always communicate with your chauffeur and share your location.
Once you finalize the Reliable Car Service Company, then they will always pick you up from the Arrivals Between Door C to Door F. If you are Arriving from United Airlines or the Lufthansa Airlines, Your Chauffeur is authorized to pick you up from Terminal 1, Lower Level/ Arrival Door C to F in the Middle/Limo Lane.
How to Get Picked From The Terminal 2 Of O'Hare Airport?
Whether you are going from O Hare To South bend Indiana or heading to any Chicago Suburbs. The pickup place would be the middle lane of the arrivals. If you are arriving with Air Canada or Delta Airlines, then it would be terminal 2 and the pickup spot for the Private Ground Transportation would be Door C to Door E in the Arrivals, regulated by the Airport Authorities. Note: All the Uber/Lyft Rideshare pickup zone is also terminal 2 upper level.
What is the terminal I can use when arriving from Americal Airlines or Spirit Airlines?
When you are arriving with the Americans or Spirit Airlines, then your chauffeur will always pick you up from Arrival terminal 3, from the middle lane, you can come out any of the doors from A to G in the Arrivals.
When you are planning to visit O Hare To South bend Indiana and need to use the Private Car Service Or Limo Service, you will get picked up from the Arrivals. All The Chauffeurs and Black Car Service are only authorized to pick you from Door A to Door G in the Arrivals.
How can I get picked up when I am arriving with Southwest Airlines or Frontier Airlines at O'Hare Airport?
When you are arriving from Southwest or Frontier Airlines, Your chauffeur will always pick you up from Terminal 5 and Door D and E. Your chauffeur is not authorized to pick you from door 1, as it uses for the Chicago Taxi and Cabs. You always have to come in the 1st lane of terminal 5 and doors D and E.
Is terminal 5 of the O'Hare Airport always for International Flights?
Usually, terminal 5 is for International Flights but Frontier Airlines and Southwest Airlines also use terminal 5 for their arrivals and Departures.
Public Transport Buses
Public Transport Buses also run at O'Hare Airport. A local Train station is also accessed on the lower level of the parking garage and gives direct access to Terminal 1-3 via
Tunnel.
Cargo Services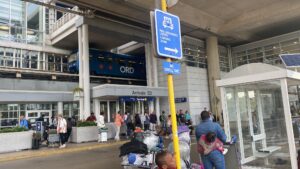 There are two Cargo areas at O'Hare Airport. The Southwest Cargo area and The Northwest Cargo area. The Cargo of O'Hare Airport provides 2 million square feet of space with parking for forty wide-body freighters capability.
Other Facilities
O'Hare was the first Airport to build an Apiary and 75 beehives cared for by ex-offenders. They turn bee labor into fresh Honey, Soaps, Lip Balms, Candles, Moisturizers, and many others.
Amenities
O'Hare Airport provides amenities like;
USO
Pool
Wi-Fi
ATMs
Chapel
Lounges
Duty-Free
Yoga Room
Health Club
Rest Rooms
Traveler Aid
On-Site Hotel
Mother Room
Fitness Room
Art Exhibition
Family Lounge
Power Stations
Business Center
Medical Services
Passenger Paging
Aeroponic Garden
Currency Exchange
Multi-Model Facility
Restaurants and Bars
South Bend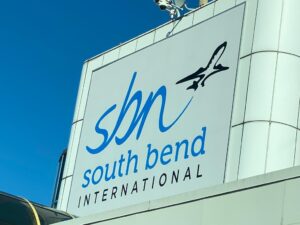 South Bend is a county seat of St. Joseph County, Indiana, situated at the bank of the St. Joseph River and the South side of Indiana's border with Michigan. It had a population of 103,453 in 2020. Its population made it the fourth-largest city in Indiana.
Fur Traders settled in South bend city in the 19th century. In the 20th century, St. Joseph River shaped the economy of South Bend City. The South bend economy is get boomed in health care, education, small business, and tourism.
The University of Notre Dame greatly influenced the economy of the city. South bend assimilated as a city on May 22, 1865, and the first election was held on 1865 June 05. The official motto of South bend is "Peace." The famous industries of South bend are Birdsall, Bendix, Honeywell, AlliedSignal, Lathe Works, O'Brien Paint Corp, Toys, Bait Company, and Watch Company. Electric Rail Transport also added to development in the city.
Interesting and Fun Things to Do in South Bend
South Bend is the best place for fun and entertainment for families and tourists. Everyone can find his kind of entertainment here, like water rafting, art galleries, parks, museums, music programs, shows, performance halls, orchestras, sports venues, restaurants, and many more within our budget. You can find the best entertainment activities here.
Leeper Park
Leeper Park, named after David R. Leeper is a historic public park in South Bend, St. Joseph County, Indiana, designed by landscape architect George Kessler in 1915. In 1930 many progressive improvements were taken place by the Work Progress Administration. In Leeper Park, there are four buildings, nine structures, and one contributing object.
Lydick Bog
It is a Nature Preserve for the public, spread over 178 acres, and its trail length is 1.4 miles in South Bend, Indiana. Many plant species are present here, like winterberry, tamarack, cranberry, sundew, pitcher plant, and carnivorous. The wetland of Lydick Bog includes a Riparian corridor, Kettle hole, Marsh, and Glacier-carved depressions. Some areas are made with glacial rocks and have Maple and Oak tree forests. Spring and Summer season are wildflower display seasons. Lydick Bog is a house of amphibians, reptiles, and birds.
The Administrative Building of the University of Notre Dame, also known as the Golden Dome, has administrative offices. Do You Need The Car Service From O Hare To South Bend Indiana? or Need The Car Service From O Hare To the University of Norte Dame?
The National Register of Historic Places registered the University Building. Fr. Edward Sorin was the founder of the University and started its construction on Aug 28, 1842, and completed it in 1844. Notre Dame University has grown into one of the renowned institutions for higher learning in South Bend and is world-famous. This University is a brick made building and 4 ½ stories tall with a small cupola with a bell.
The Ground floor of the University has a kitchen, recreation room, washing room, and refectory.
The second floor had classrooms, an art gallery, Study halls, and Sorin Office.
The third floor had dormitories and residences of priests.
The last floor had dormitories, a museum, and an armory.
Notre Dame is the house of approximately 20,000 students. The University Campus includes beautiful places, iconic landmarks, historic architecture, the Basilica of the Sacred Heart, the Grotto of Our Lady of Lourdes, the Football team, dine-in places, and many more to explore.
Four Winds Field
If you are a Sports lover, then Four Winds Field at Convalesce Stadium is the best option. Here you can find all American games of Baseball. It has a seating capacity of 5,000 spectators. Convalesce Stadium is also known as The Cove, and in 2015, the Cove went through a renovation. In renovation, added new restaurants, seating capacity, and parking. It is the perfect place to visit and enjoy the South Bend Cubs.
Circa Art Gallery
Circa Art Gallery is a gallery with local Art in South Bend. A well-curated talent is displayed here of local artists, Art pieces, and antique pieces for exhibitions and sale purposes, and you may take them with them as a souvenir. Circa Art Gallery is also Art itself which makes it historic.
East Race Waterway
For spending the best evening, East Race Waterway is the best place. This place welcomes experienced white water rafters for nonstop fun and adventures. Here you are provided with Rafting equipment for the best rafting experience, but if you want a Kayak ride, bring your kayak. If you wish to stroll around walkways, you can have a ride on rapids.
Healthworks! Kids' Museum
Healthworks! Kids' Museum is fun and focuses on health and fitness lifestyle. This Museum arranges different indoor activities for learning and maintenance of health. This Museum help kids to figure out how to maintain their health, and some programs emphasize the importance of hygiene. A famous "Food Group Frenzy" program describes a healthy diet for kids and adults.
Studebaker National Museum
This Museum has an impressive collection of Studebaker Cars, vehicles from the history of America, and objects of cars, wagons, and carriages from 1800. Military Vehicles, craftsmanship, and mechanics are also displayed. The Museum also describes the history of the Studebaker family.
How to Book Limo Service From South Bend to O Hare?
If you want to book a limo service from South Bend to O Hare International Airport, just call us now to book your ride or get a free quote. You can also book us online through our website and get a free quote online for your ride. Call us now at (708) 770 0805