Top Benefits Of Getting O'Hare Airport Transportation Services in Chicago
O'Hare Airport transport services ensure that you do not have to wait long before entering the car. Unlike hiring local transportation or regular city taxis, which force you to wait in long lines before eventually getting to board the cab, professional car service to the airport allows you to board the cab immediately. We offer one of the best car services in Chicago. We provide limo service in Chicago and many more. We hire the most professional chauffeurs.
Black Car Everywhere With O'Hare Airport Transport Services
Wherever you go, Black Car service in Chicago elevates your ride to a new level of comfort and luxury. We are always punctual. We provide the best car service to the airport. Just make a phone call and obtain the car of your dreams.
Benefits of Getting O'Hare Airport Transportation Services
1.      Safety
When you hire an airport transport service, you receive chauffeurs that are professional, well-trained, and experienced. Our cars are all properly insured and always safe to ride in. This is especially important if the city you are visiting is new to you.
2.      Experienced Chauffeurs
Our chauffeurs are all Chicago locals who are familiar with the city. We know all the quickest and most efficient ways to get you to your destination swiftly and safely. Do not let the worry and stress of traveling around an unfamiliar city with an unskilled chauffeur ruin your trip. Leave the driving to us, and we will get you started on the right foot.
3.      Fixed-Rate
Most people believe that hiring a chauffeur will be costly, but it is a highly cost-effective decision. When you use a transportation service, you save the extra costs associated with renting a car, such as parking fees, additional insurance, and gasoline. When you choose a professional airport transportation service, you can be sure of a set fee. Other transportation firms employ pricing systems that determine your cost depending on the number of miles you go and the time of day you travel. If unexpected factors such as traffic and road delays impact your journey path, this pricing approach can potentially treble your previously indicated trip costs.
4.      Reliability
Arriving late at the airport and missing your flight is a traveler's worst fear. When you hire a professional transportation service to travel to the airport, you can be certain that you will arrive on time. We track your flights and monitor delays, changing the timing of your pick-up and drop-off accordingly. We will get you to your destination in plenty of time, no matter which airport you are flying into.
5.      Efficiency
Road construction and traffic delays are major sources of stress that you may easily avoid. Our qualified staff of drivers at Black car service Chicago monitors traffic patterns to ensure we take the shortest route possible to deliver you to your destination promptly and effectively.
Allow us to greet you at the airport and transport you to one of our luxury vehicles for a comfortable and peaceful trip to your ultimate destination. We will make sure you get there securely as you relax in style. You need to sit in the car and enjoy the travel. For a safe and pleasant limo service, contact us or visit blackcareverywhere.com.
Would not have to take the stress of getting lost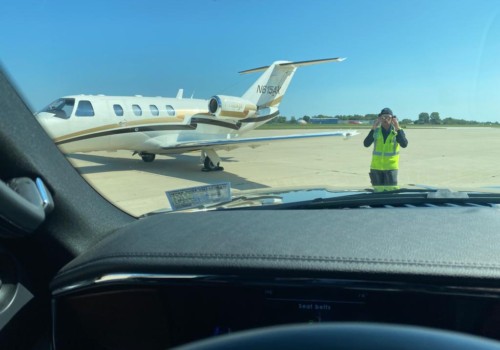 Because the city is so large and full of twists and turns. So, getting lost is a regular concern for visitors to the Chicago area. Even if you have a GPS, it can be a frightening and unpleasant experience. You're presumably in Chicago for business or pleasure. Both of these should be enjoyable and stress-free. You will be in fantastic hands when you hire Black Car Everywhere airport services. Because Black Car Everywhere drivers have quite knowledgeable about the entire city.
This knowledge gives you peace of mind. You can relax by knowing they can get you there using the most efficient and safest path.
Transportation provided by professionals is always on time
When landing at Chicago's ORD or MDW airport, you don't want to rely on public transportation. It would be naive to assume these services to be a reliable alternative. Because most individuals miss important meetings if they aren't accommodated by an expert. This is the reason many businesses use Black Car Everywhere services. Because we are always available when you need us and provide quick & efficient service. Hiring professionals to complete any ride across the city is a wise decision. They will also have knowledge of various hot locations that you may inquire about.
A more flexible travel experience to various locations
If you have a lot of stops, you must take transportation or it will become difficult. Professional service will help you to keep your travel on track and avoid any delays. They can adjust to your schedule and understand that things happen. Transitioning from a bus to a train will save you time and energy, and it will be a lot smoother. This is particularly difficult if you have a tight deadline to meet. Hiring a professional airport Transportation Company ensures that you will arrive on time. When you engage them to help you, traveling becomes a lot easier!
Chicago traffic is very congested and dangerous
Chicago is a fantastic city full of chances and amazing structures. But if you've never traveled there before, the traffic can be very intimidating. In the busy city, it'll be difficult to navigate with cars that tailgate. It's the way things are around here. Without the right driver, rush hour can be a complete nightmare. Hire experts to mitigate the harmful and unpredictable variables of the road. It will ease the anxieties on the road. They are well-trained to deal with these scenarios. And are well familiar with the city's hectic traffic patterns. Allow them to drive while you rest on your route to your next destination!
You'll discover that hiring a private airport transportation service is more cost-effective. It is good from an environmental perspective than taking a train, cab, or bus at the airport. Not only that, but they're also much-priced services you can rely on to get you there in a safe and secure way. Taxi drivers and self-drivers have a tendency to drive on time. This is not something you'll see among pros. That's why black car everywhere is here to provide you with a consistent and safe service. The main focus is to reduce the inconveniences of your vacation to make it more enjoyable.
A private and opulent experience in premium automobiles
Using an experienced airport limo service instead of the traditional car is a good idea. If you are already traveled, you'll notice a significant difference. That difference will keep you using them again and again! It's a lot more private than having someone breathing down your neck on the bus. You can also tell the driver if you want to use the separation in a more private manner. But booking us from ORD Airport to any destination is more luxurious and prestigious. You can wow your family and friends, or the executive who is flying into town for a meeting. Whatever the occasion, you always need a dependable airport transportation service. You can count on this dependable airport transportation company.
What are the major reasons why you reserve airport transportation services?
Airport transfers are transportation services designed to transfer passengers. They transfer between airports and their intended destinations. An airport shuttle can make your journey a lot easier. Suppose your destination contains tourist attractions, hotels, conference centers, or anything else. In such situations, airport transportation is very important. If you're a frequent traveler then booking airport transfers can be beneficial.
Pure Convenience is a promise
Dealing with long airport lineups may be aggravating and monotonous for everyone. At times, trying to get a taxi can feel like more than anyone bargained for. You won't have to waste valuable time if you schedule an airport transfer. From the beginning, your vehicle is at your disposal. You can hire a seasoned chauffeur to help you with your bulky bags. Your chauffeur will be understanding if your flight is late. Booking airport service with experts will provide you with a convenient travel experience.
Forgotten fuel Expenses
It can be time-consuming and difficult to drive yourself to and from airports. At the same time, paying high petrol prices may be necessary. Filling up a rental car's tank might be costly! Hiring a company that specializes in airport transfers is a great way to avoid such troubles.
Access to a Trained and Experienced Driver
Driving in today's world might be daunting at times. Reserving an airport car can be a game-changer if you don't want to cope with driving stress. When you order an airport transfer, you'll be able to enjoy the help of a driver. The driver is well-versed with the neighboring routes. This expert will be well-versed in all the area's safest and most efficient routes. Getting airport transport can be your saving grace if you don't want to waste time.
Relaxation's Many Benefits
Traveling can be exhausting, there's no denying it. It can deplete a large quantity of your vitality. Nothing beats getting your hands on an airport travel service if you want to relax during travel. People can snooze on their journey back from airports. It allows them to relax after dealing with the problems of long airport queues, and other issues. If you want to close your eyes for a little and not have to worry about parking, traffic, or anything else. Then booking an airport shuttle is the best solution for you.
A Significant high Level of Safety for Everyone
For folks who are very concerned about a variety of airport safety issues, can be a fantastic option. Professional drivers are well-versed in all the safest driving techniques. They also know how to keep their passengers' valuables secure. Nothing beats the convenience of getting an airport limo transfer. Transfers to and from the airport might make your trip's arrival and departure a lot easier. They are appropriate for both business and leisure travelers.
There is a Multitasking Support
People need to reconnect after spending hours on a flight without internet connectivity. They try to arrange the airport transportation service as soon as they land. This entails making phone calls or using an app while attempting to exit a crowded airline. When a professional driver handles corporate travel airport transportation. It will be simple to return to work after long excursions from the airport to the hotel. Many people, in fact, use a professional driver for the duration of their vacation. It ensures that their transportation demands are very easily fulfilled.
Cost Considerations
Many people expect that hiring an expert driver will be more expensive than renting a car. They think that it is a luxury one who charges more and more. Many professional vehicle services, provide reasonable rates. So, using a car service allows consumers to avoid unnecessary expenses. This covers things like parking costs, rental insurance, and gas prices. All these costs might increase when visiting a major city for a particular event.
So what to expect from an experienced airport transportation services company?
So, what exactly does a limo service provide? For starters, professionalism. Limo companies provide professional chauffeurs that are experts and trained in driving. They have clean driving records and are familiar with the locations they serve. They are also familiar with local traffic patterns. So, they can provide you with information about the town and nearby restaurants.
They are professionals and skilled conversationalists. It is the reason they can tell when a passenger wants to converse and when they want to slumber. Small conversations and quiet are specialty traits, believe it or not. Professional chauffeurs will help you with your bags and open doors. They will supply you with cool bottled water and other snacks.