WHAT ARE THE WINTER ACTIVITIES IN CHICAGO?
As winter arrives, Chicago is covered in a shimmering layer of snow, turning the Windy City into a wonderland. Chicagoans love this winter season, and lots of visitors also come to enjoy lots of winter activities here. Under the skyline, you can enjoy from Ice skating to sipping hot cocoa; Chicago offers something for everyone during the colder months.
In this guide, we'll explore the best winter activities in Chicago, ensuring you make the most of this chilly and charming season.
About Chicago:
Chicago is a vibrant city in the United States of America, offering something to enjoy all year round, from its skyline to its renowned institutions. Chicago is on Lake Michigan and offers warm summers, chilly winters, and stunning spring and Autumn foliage.
Visitors can enjoy outdoor attractions, beaches, Navy Pier, vibrant neighborhoods, lovely eateries, clubs, and parks in Chicago. Millenium Park and Chicago Art Institute are the most-visited attractions. Take a ride on the Chicago River or to the Magnificent Mile and explore the winter activities in Chicago.
Chicago's Winters:
The activities of Winters in Chicago can be cold and snowy, so plan accordingly; there are plenty of activities to keep you warm in the Windy City. Make your winters memorable with ice skating rinks to cozy pubs in thrilling and freezing weather. Enjoy the festive atmosphere at the famous Christkindl market in Daley Plaza from late November to Christmas.
If you want to experience something different, visit Navy Pier's Winter Wonderfest for indoor games, a gigantic snow globe, and an indoor playground. Experience the Chicago Riverwalk and take the city's sights from the heated outdoor spaces for dining, shopping, and entertainment.
Pack your warmest clothes and head to the Windy City for a winter gateway you'll never forget! Whether you want to experience an action-packed adventure or some cozy indoor activities, Chicago offers a variety of winter activities. From the iconic sights of the city attractions to the unique cultural events, you'll remember this trip to Chicago.
Things To Do in Chicago in Winters.
Visitors of all ages can enjoy the variety of activities in Chicago as there are lots of things and attractions to watch, like ice skating, riverwalks, and watching snow globes.
1- Ice Skating:
Millennium Park's McCormick Tribune Ice Rink is situated against the Cloud Gate; experience the icy sidewalks and embrace the frosty weather.
2- Snowshoeing and Cross-County Skiing:
The parks and nature centers offer fantastic options for snowshoeing and cross-country skiing. Northerly Island, with its natural trails, is perfect for these activities.
3- Visit the Museum:
The Art Institute of Chicago, the Field Museum, and the Museum of Science and Industry offer exhibitions and interactive displays. Spend leisurely hours exploring history, science, and art.
4- Winter Festivals:
Chicagoans love celebrating the winter season with festivals, including the annual Christkindlmarket at Daley Plaza, Nuremberg Christmas Market, and the Winter WonderFest at Navy Pier.
5- Hot Cocoa:
Chicago has various cafes and chocolatiers that serve hot chocolate. Don't miss the XOCO to try the classic Mexican Hot chocolate by renowned chef Rick Bayless.
6- Go Sledding:
Chicago's parks offer fantastic sledding hills where young kids have unique experiences. Cricket Hill in Montrose Beach and Humboldt Park are famous places for sledding spots, spend hours of snowy fun.
7- Winter Indoor Gardens:
Enjoy the lush green indoor gardens. The Garfield Park Conservatory and Lincoln Park Conservatory offer colorful flora and warm breezes.
8- Cozy Fine Dining:
Visit cozy restaurants such as Geja's Cafe, River Forest, and many others to enjoy delicious food in a cozy atmosphere.
9- Neighborhood Lights:
Explore the grounds of Lincoln Park Zoo and Brookfield Zoo and mesmerize with thousands of twinkling lights and a magical atmosphere for families.
10- Take a Walk in Snow:
Stroll through the streets, parks, and neighborhoods loaded with the fresh layer of snow and offer a peaceful backdrop. Bring your cameras, and don't forget to click some memorable winter selfies.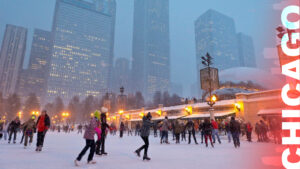 Fun Things To Do in Chicago Winter 
There are lots of activities to do in chicago during the Winter Season, such as;
Sledding at Northerly Island.
Exploring the Art Institute of Chicago.
Visiting the world's giant Starbucks.
Visit Chicagoland during winter and have a memorable experience. Enjoy a delicious supper at one of Chicago's best restaurants, visit the Chicago Theatre or the House of Blues, and make your winter awesome in this stunning city!
Spend a memorable day at the Chicago Christkind market and shop with over 40 worldwide vendors selling handmade ornaments, toys, and other products at outdoor Christmas markets. Feel the great taste of German cuisine staples like bratwurst, sauerkraut, and hot spiced wine, and stroll among festive wooden kiosks.
Chicago has several museums that explore the culture and history throughout the winter. The Field Museum displays displays dinosaur bones and other artifacts. To access interactive science displays, visit the Museum of Science and Industry.
Maybe for some, the winters are brutal with icy sidewalks, howling winds, and snowy streets, but still, there are many things to do for adventure lovers in Chicago's chilly weather.
Chicago Attractions in Winters
Navy Pier is Chicago's most fantastic wintertime attraction for fun activities along the lakefront, like ice skating, carousel rides, funfair games, and fireworks shows. Additionally, a joyous Christmas market is opened here from November through January.
One of the top wintertime attractions is the Christkindlmarket. Chicago Museums offer cultural experiences in winter. Exhibitions at the Field Museum showcase the dinosaur bones and other artifacts. The Museum of Science and Industry offers interactive science exhibits. Millennium Park offers an ice skating rink and sledding slopes for wintertime snowy fun.
Explore Winters Activities in Chicago with Limo Service
Limo service can pick you up from O'Hare airport to anywhere in Chicago for a comfortable and stress-free ride. From exploring the city's museums and galleries to visiting its famous sites, our limo service will ensure you get around Chicago in style. 
Enjoy the beauty of nature while admiring the beautiful skyscrapers by riding with us. Chicago has several museums for those looking for a more cultural experience throughout the winter. Many exhibits at the Field Museum showcase case dinosaur bones and other artifacts from around the globe.
Our knowledgeable drivers will ensure you arrive at your location on time and safely. The Museum of Science and Industry's interactive science exhibits are also accessible to Chicago residents. Let our limo service make your Chicago experience a memorable one.
We guarantee an enjoyable and hassle-free ride, so book with us today for Winter Activities in Chicago! Our courteous chauffeur drivers will provide the finest customer service for Winters Activities in Chicago.
Additionally, if you intend to remain out late, use the limo service to provide friends and family with a designated driver so everyone can enjoy the night without worrying about getting home on time. With our well-trained, experienced, and highly professional chauffeurs, you can safely return to your hotel or home safely and sound. 
Airport Transfer For Winter Activities in Chicago
To explore the charm of Chicago city in the Winter season, book Black Car and Limo services to take you to your destination safely and on time, no matter what the weather conditions. Black Car Service provides a hassle-free airport transfer service to and from Chicago Midway Airport and O'Hare International Airport. 
Your professional chauffeur will meet you at the airport on time; he will track your flight and assist with your luggage. The chauffeurs of Black Cars are skilled and offer first-rate service. They can get you to your location quickly and safely, relax, and enjoy the Limo ride.
The Limo Services strives to cater to your travel demands for transfer, whether traveling solo or with a group. Get a reliable private automobile service, no matter how many people are in your group or what luggage you have.
Car and Limo Services always follow your timetable to avoid delays, so your trip to Winters Activities in Chicago will go well. You can feel secure knowing that your transport needs are handled by our customer service team around the clock. Reach out to us to begin organizing your trip with us!
#winter activities in chicago
#things to do in chicago