A Luxury and Classy Party Bus Rental Chicago
Chicago has fantastic city tours, museums, theaters, breweries, and wine tours. The Party Bus Rental Chicago is the best option for all occasions. You can book a limo for fun-filled locations with your family or friends.  We design our party buses like a club on wheels. They developed the top-of-the-line sound system, party disco, dancing poles, LED lights, and more. Our limos have unique amenities that ensure partying in stylish luxury.
Are you wondering about a Party Bus Rental in Chicago? Or do you want to know more about the best party bus for rental? Have you planned any specific events coming up? Well, you are in the right place. Our limos are ideal for any occasion. Whether it's a wedding, birthday, corporate celebration, anniversary, prom, or bachelor party. We are the perfect solution regardless of your plans for your party celebration. We provide luxury vehicles at competitive rates that suit your budget.
Our Party Bus is not the only best for special occasions. They are perfect for large group transportation. They are also ideal for a company outing, team building, or any other corporate event. Black Car Everywhere is ready to pick you up and drop you off at your required destination. Our party limos are an exciting way to experience the event uniquely.
Look only as far as Bus Rental Service if you want to take your party in Chicago to the next level. They are the preferred option for a fantastic experience thanks to their exceptional party buses and first-rate party bus rental services.
Their party bus service ensures a fun and exciting evening for any special occasion, including birthday celebrations and nights out on the town. They have an extensive selection of opulent party buses that can hold groups of all sizes as a reliable Chicago limousine service.
We offer the perfect vehicle to suit your needs, from the sleek and stylish limo bus to the spacious and vibrant party limo bus. With their reliable and professional limo company, you can expect first-class service and a memorable journey.
Look no further than the Chicago Limousine Service to locate the best party bus rental in Chicago. Their party buses can transport parties of all sizes, whether you're organizing a special event, a night out with pals, or a corporate gathering.
Party Buses rental services can accommodate any group with options like the 36-passenger and 30 passenger; equipped with a powerful sound system, disco lights, and a laser show, party buses create an electric atmosphere that guarantees a great time.
The Chicago Limousine Service goes above and beyond to ensure you will remember your experience. Their vehicles are adequately supplied, and their qualified chauffeurs offer first-rate service. They cater to your transportation needs while considering various criteria, offering the most incredible prices and budget-friendly rates in the Chicagoland region.
Therefore, for a fantastic experience in the dynamic city of Chicago, Illinois, whether you're celebrating a special event, birthday parties, or want to have a memorable night out, select the party bus and limo rental services of the Chicago Limousine Service.
Party Bus Rental provides the ideal transportation option for any event with a fleet of opulent party buses. Our roomy and fashionable Chicago party buses are made to accommodate groups of any size, whether you have 30 passengers or 36 passengers, have a great experience.
Just let your service provider know how many people you are and get the best party bus rental prices. You can book party bus and limo service for bachelorette parties, special occasions, wedding day, bachelorette party, prom night, special events, and tour to Navy Pier or anywhere to have an unforgettable experience with fully stocked and super clean buses at best prices.
Party buses are entirely loaded and prepared to create a unique environment, equipped with all the amenities you need for a fantastic party. It provides the ideal party experience without breaking the bank, thanks to their reasonable rates and lowest deals in the Chicago suburbs.
We provide magnificent party buses ideal for any event, including birthday celebrations, bachelorette parties, birthday parties, and get-togethers with friends. Our luxurious party buses are a fantastic choice for any occasion. When organizing your next event, never accept anything less than the best. party bus rental prices are affordable.
A night of fantastic fun and excitement in the Centre of Chicago, Illinois, is yours when you choose party bus rental services. Book early your limo service to get at best prices that perfect fit for your budget, whether you want it for prom night, special event, Birthday parties, special night or for any special occasion in the town.
Don't settle for ordinary transportation services; opt for the best with the Chicago party buses and make your party in the city or the surrounding suburbs extraordinary.
It's because limo rental buses can accommodate a large group of people. They turn an introductory tour into a moving party. You can reserve your party bus by completing an online form or calling.
To get more information about our vehicles, check our fleet page or call (708) 770 0805.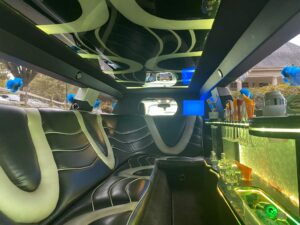 When you wish for a perfect ride, create a statement. We at Black Car Everywhere have got you covered. We offer Party Bus in Chicago for any occasion, including:
Corporate party for high-level executives
Special events, for example, holiday gatherings
Sporting events for game lovers
Concerts for the discerning fan
Red carpet event, for example, a movie premier
Limo bus rental for the perfect party
Party Bus in Chicago for large groups
Airport transportation to Midway and O'Hare Airport with the family group
Party bus for wedding transportation
Party bus for Pre and post-wedding celebration
Prom Party Bus Rental for school events
Birthday party bus for adults and kids with child seats or car seats
Bachelor or bachelorette party bus to enjoy the last day with freedom before your big day
Quinceanera Party Bus
Sweet 16 party for her special day
Party bus for Christmas day to explore the windy city
Alpine Valley Concert Party Bus Rental
Whether a big music fan or part of a band, you will enjoy a VIP ride. Our expert will provide you with hassle-free transportation from Chicago to the Alpine Valley destination safely. No matter whether you are holding a post-concert or pre-concert party, the black car is your solution. Our chauffeurs are reliable and trusted to keep your event private. Our Bus Rental Chicago is quick and quiet for such particular scenarios.
So, if you have a large group to attend a concert in Alpine Valley, Party Bus is the best option. We will pick you up before the time and ensure you get to your venue on time; whether it's before the concert begins or enough time to host a show, we are always ready to go. When the concert is about to end, your chauffeur will be there waiting for you and your guests. He will take you home safely and securely. With Black Car Everywhere Limo Rental, all you have to do is enjoy your party. We will upkeep the rest.
Luxury Party Buses for Concert
The black car is Chicago's number-one rental company. Both musicians and concert fans trust our Bus Rental Chicago. We have a wide selection of top-model party buses in the town that come with powerful sound system, so you may have so much fun. They will make finding the luxury vehicle for your group size easy. Our drivers are experts in shuffling you and your guests to your concert destination safely.
Moreover, our stretch limo and party limo buses are affordable and come up with student packages. So, relax, chill, and celebrate your evening from start to end without the stress of direction. There are no traffic, parking, or lengthy walk hassles. Whether, your concert is being held at a theatre, stadium, or park, we are everywhere. Thus, book your next party bus with the black car for a memorable trip.
Following are the top concerts areas that we are serving with our Bus Rental Chicago:
Jay Pritzker Pavilion, Grant Park Chicago
United Center
City Winery Fulton Market Chicago
Hollywood Casino Amphitheatre
Millennium Park in Grant Park, Chicago
Soldier Field, Museum Campus
House of Blues
Symphony Center Chicago Loop, IL
Lincoln Hall
The Vic Theatre, Lakeview, Chicago
The Chicago Theatre
Huntington Bank Pavilion
Ravinia – Highland Park, IL
Thalia Hall, Pilsen
Soldier Field, Museum Campus
Party Bus in Chicago for Night Out Specials
Chicago is famous for its concerts, sporting events, and luxurious clubs. Let us take responsibility on our hands. Sometimes you will worry due to bad weather. You only need to sit back and enjoy beverages. Our best Party Buses and Stretch Limo will make you feel like a rock star. Our drivers are experts in making your night out most memorable with your 30 passengers group. Our drivers will avoid traffic hassles and high parking fees. We let you enjoy the Night out in the town with your loved ones or friends. The clubs which we are serving right now have listed below:
Spybar
Castle Nightclub
Bevy Nightclub
Bodi Nightclub
Dolphin Nightclub
Ybar
Nikki Nightclub
Vertigo Sky Lounge
Proof
Soundbar
Paris Club
Cuvee
Lumen Nightclub
Quinceanera Party Bus Rental
Are you looking for a special treat for someone on their Quinceanera celebrations (15th Birthday party) in and around downtown Chicago or the Chicago suburbs? Try our Bus Rental Chicago for your Quinceanera Birthday party. We want to make your next celebration memorable through our unique stretch limo. A surprise Quinceanera Birthday party for your friend with our limo can make your event memorable. You can also choose our SUVs to add an extra touch of class to a surprise party.
Our professional drivers will make your Quinceanera limo buses ride fun wherever you go with a powerful sound system. You will experience a joyful and safe ride at great prices. We can also decorate your party bus with balloons and banners upon your request. So, make your loved one or yourself very happy at the birthday party.
Bus Rental for Corporate Events
With a large number of party events that take place in Chicago every year, the party bus is your answer for all your special events in Chicago area. To maintain your company standard, book our Party Bus luxury vehicles. Our elegant, sleek buses with wrap-around seating are the best choice. Whether you want to impress a new client or throw a memorable holiday party. We are a multi-transport services provider under one roof.
You can also bring the meeting on board through our flat-screen TVs. There are state-of-the-art sound systems and outlets to plug into your smartphone. In this way, you will stay connected with your team or meeting partners. Our Bus Rental is ideal for networking events or socializing. Our party bus is the ultimate choice for corporate events when you want to reward the clients. You can also transform the party bus into your preferred environment.
You will stay relaxed, without stress or pressure, while we transport you. Hence, whether you want to reward or impress a client, a party bus is the perfect solution. Contact us to book our party bus for your corporate event and avail of great price.
Look no further than the Party Bus Rental Services for the best party experience in Chicago. They are the go-to option for anyone looking to have an unforgettable experience because they provide excellent party bus service.
They cater to various events and festivities with a fleet of plush and roomy party buses, including the iconic Chicago Party Bus. Their party bus rentals are made to accommodate groups of all sizes, with the highest level of luxury and style, for everything from bachelorette parties to group outings.
They offer reasonable rates and the most excellent pricing in town while serving the Chicago area, including the suburbs and the Chicagoland area. They make sure your experience is outstanding by keeping several things in mind. They have party buses that are entirely loaded and furnished so you can celebrate and have a fantastic time in the ideal atmosphere.
Therefore, if you want to up the ante on your celebration, rely on the Party Bus Rental Services in Chicago to give you a luxurious party bus experience that exceeds your expectations and can fit up to 36 people.
Party Buses for Prom or High School Events
We have catered to thousands of students for many party events. For example, homecoming, prom, and formal high school events. We can accommodate all age groups. Whether smaller or bigger, our best Party Buses are available, and provide the best customer service in Windy City at affordable rates. Renting out our party bus ensures you will attend the event on time. Thus, enjoy and have a blast with all your friends. There is no need to navigate or try to coordinate rides. You only need to book us for fun and easy transportation.
"Black Car Every has a special note for the parents."
Hello parents! You can feel safe knowing your young adults are in safe hands. We will transport them to their destination securely and professionally. Our best Party Buses meets all CHP / PUC regulations. We know that it is a fascinating time for your young adult. In another sense, the passageway from high school to college to career. So, it is the beginning of a new chapter in life.
Nothing is better to conclude your school experience than a big celebration. So, trust us and let your kids enjoy their big day through our reliable and luxurious party bus. There is no need to worry whenever your kids are planning their high school events. Trust Black Car Everywhere professionals. They will drop off your kids as they pick you up.
Party Bus Chicago for Wedding and all other Related Events
We will make your wedding day unique and memorable as per our commitment. When planning your big day, every detail must be at your fingertips. A reliable Party Bus limo company is one of the essential elements. Our Limo Service caters to you from rehearsal dinners, bridal parties, wedding ceremonies, and all your special events.
Chicago is one of the most desirable places in the world to wed. So, why not travel in the most luxurious vehicle for your wedding event? If you worry about having a large group of people, leave it to us. Our party buses came up with wraparound leather seating. So you can treat your guests in style at your most special event at highly affordable rates.
Features of Our Party Bus in Chicago
As we already discussed, we have the latest fleet of party buses. They are the number one choice for all kinds of events. The following are the most common features of our Chicago Party Buses:
The black car offers customized and professional customer service.
All our vehicles come with customized lasers. Premium interior in which disco lights are also integrated into ceiling and floors.
LED Lights
Sliding moonroof
Your favorite music
Plus, all our models have a luxurious design. And luxurious front-facing & rear-facing soft leather seats.
Powerful Sound System
and many other luxury features that exude warmth, glory, and richness.
Our best customer service always want to make your trip perfect. If you strive for a grand and classy party bus, look no further! Black Car Everywhere is the solution. We promise to deliver you the most affordable and reliable party bus in Chicagoland.
Rental Price of our Party Bus Chicago
You are all curious about how much it costs to rent a party bus. Well! The price depends upon the nature of use. Such as:
Day of the week you want to hire a party bus.
Is the weekday best to reduce travel charges?
A total number of stops you are going to make with your rider.
You want to hire a party bus for a night.
You want to hire a limo buses to throw a party for a few hours.
Total number of Mileage
Amenities you will use
The vital thing is that the party bus rental service will charge you based on per hour.
Why Choose Party Bus Rental Chicago for your Event?
A well-dressed, well-spoken, and professional chauffeur will welcome you. He will address any need you might have before or after the event. Your party bus will always be ready to take you on your next trip. Whether it is your wedding reception, the airport, or any other, if you have any further questions about our Party Bus Rental Chicago, contact us by visiting our website, www.blackcareverywhere.com. We are available 24/7. Our customer care assistant by providing a thorough guide.