Limo Service McHenry IL | McHenry Limo | Limo Service McHenry County IL
Looking for Limo McHenry for your transportation?
Look nowhere to avail of the best limousine pickup and drop-off. We always strive to provide you with a high standard, safe, and luxurious transport. Black Car Everywhere McHenry Limousine Rentals is ready to get you across Chicago City with style, class, and luxury.
We offer a wide variety of luxury vehicles. You can reserve these vehicles according to your needs. Further, we also serve large groups to accommodate everyone you may be traveling with Limo McHenry. Our luxury limos are for airport transfers, proms, weddings, bachelor parties, and many more.
Our fleet includes SUVs, medium-size SUVs, Sedans, and VIP sedans. Further, VIP SUV, Limousine, and car service to ORD & Midway Airport are also available. We ease you with safe and comfortable service when you travel with us. Moreover, we fulfill the requirements of today's business and leisure travelers.
Transportation companies chauffeurs also provide door-to-door service to and from different areas. Include Huntley, IL; Crystal Lake, IL; Algonquin, IL; Woodstock, IL; Wonder Lake, Cary, Marengo, Foxriver, Union, United Center, Harvard, and Richmond. Conference destination and residential and business locations across the McHenry area. We are a trusted affiliate network that serves all types of national customers.
Looking for an Airport Limo Service for Airport Transfer?
We take pride in serving you with safe, quick, and efficient airport Limo Service in McHenry, IL. Our chauffeurs are experienced, trained, and know how to get you to your place. They are friendly, courteous, polite, professional, and perfectly groomed. They always make you feel comfortable in your luxury vehicles.
We understand how tiring traveling can be. So, we ensure a smooth, comfortable, and luxurious ride to your desired place. Black Car Everywhere always provides your early and delayed arrivals at O'Hare Airport. Our Chauffeurs are proactive. Thus, We are always available at the Airport earlier than your arrival.
We provide a reliable Limo Service in McHenry, IL, with car seats. Including Black Car Service at Chicago Midway Airport and O'Hare Airport. Are You flying from Dupage Airport, Chicago Executive Airport? or Waukegan Airport?
Our Limo Service is available at all private Airports, including Signature airports near Midway. Further, we are here to assist our customers with high-quality service. We ensure you will get everything you want when you book with us. If you ever miss your flight, give us a call.
We can provide the best interstate flat rates with our professional chauffeurs. They are experts in roadshows in the Metropolitan Chicago area and beyond.
For all your transportation needs, book McHenry Limousines, your reliable limousine company offering a unique blend of luxury and comfort. Whether it's a special occasion, a ride to the airport, or a night out with friends, we have you covered.
Our fleet includes stretch limos, party buses, and airport shuttles; we ensure prompt service and comfortable rides. Our professional drivers prioritize the safety of your kids with car seats. We provide limo rentals from Highland Park to Cumberland Ave to all destinations.
Book online for your next event or call for the complete list of services we offer, from Veterans Memorial Park outings to transportation for sporting events. Enjoy a great night, knowing you have a reliable ride home.
Choose McHenry Limousines for your transfer needs and experience the luxury of affordable prices and top-notch service. For a comfortable travel experience in McHenry, trust McHenry Limo Service to provide the best service for your special occasions and transportation requirements.
Our reliable service ensures a comfortable journey from airport to luxury rides along the Fox River. Whether it's a party bus rental for larger groups or a stretch limo for a special event, we have a vast range of fleet.
Explore the Chicago Loop in style with McHenry Car Service; whether you need it for a few hours, your limousine ride is more than just a ride—it's an experience. Choose us for luxury that makes every trip memorable.
Having guaranteed airport transportation Services in McHenry, IL, is hard. The bus to Chicago Airport or ORD from Suburbs has never been so easy. But arriving at O'Hare International Airport is a breeze using our limousine service.
Are you looking for a reliable Limo service near me in McHenry, IL? Get affordable and reliable McHenry Limo with chauffeur service near you with a wide range of fleets. Google the limo companies near me or car services near me and book a black car service, McHenry limousine service and enjoy your ride there.
We at Black Car Everywhere are always ready to provide safe and luxurious Limos in the McHenry. We are set to get you anywhere with style, class, and luxury.
We have an option of reserving luxury vehicles according to their own choice for our clients. You will feel like an actual red carpet experience is worth your penny. Our services are available to O'Hare from the northwest and northern suburbs.
But McHenry car service also provide limousine service to ORD from the south and west suburbs. Illinois has hundreds of suburbs, and we will drive to all of them.
Which Other Areas Do We Cover? McHenry limousine rentals serve the many safe Chicago area for trips to and from McHenry, IL. We will drive for thousands of miles as long as your ride starts and ends at O'Hare Airport. Enjoy the following areas by taking our Limo & Car Service in McHenry, IL. It does not matter whether you want to go to attend a conference.
Going for a business meeting or to negotiate business deals in Chicago area. What matters to us is that you travel to that destination comfortably. The travel is safe and reliable and does not take you off your schedule.
LIMO SERVICE TO & FROM O'HARE AIRPORT
With a highly professional chauffeur team, Black Car Everywhere can make your traveling simpler, more efficient, and more enjoyable with O'Hare Airport transportation. We can provide you with the best Black Car Service, Chauffeur Service, and Limousine Services For O'Hare Airport Departure.
No matter which part of McHenry, Illinois, you need the Car Service, we can provide you with McHenry limousines everywhere. We are available everywhere with McHenry limousine; if you book us in advance, we can make the best time connection whether you need car & limo service to Mchenry from Elgin, Glenview, Naperville, Mount Prospect, or from any part of Illinois.
McHenry, Illinois, is approximately 39 to 41  miles from the O'Hare Airport and 55 minutes from Mchenry, IL to O'Hare Airport. Depending on the time and route you are taking. Suppose you Follow State Rte 31 S and IL-62 E/W Algonquin Rd to Barrington Rd in Barrington Township and Get on I-90 E in Hoffman Estates.
Following I-90 E to I-190 W in Chicago can be more accessible. Continue onto I-190 W and finally reach O'Hare International Airport, 10000 W O'Hare Ave, Chicago, IL 60666.
Do You Need The Meet & Greet Service? Or Want To Meet Your Chauffeur on Arrival With Your Name Signed?
Sometimes, travel can be stressful, and it is hard to manage the luggage. Thus, Black Car Everywhere Can provide McHenry limousine service with meet and greet services inside the O'Hare Airport.
Whether you are arriving at O'Hare Airport Terminal 1 with United Airlines or Arriving at O'Hare Airport at Terminal 3 with American Airlines, we always show up earlier than your arrival with your name sign. No matter about lousy traffic or weather, we are always on time, no matter at which terminal you are arriving.
O'Hare Airport transportation can reduce your heavy luggage challenges and ensure the best travel experience at O'Hare Airport.
O'Hare Airport Pickup Procedure For Limo Service McHenry
No matter at which terminal you are arriving at O'Hare Airport. Let's share your flight information; we can text you with complete pickup instructions. Are you at terminals 1, 2, 3, & 5 at O'Hare Airport? We can provide curbside services when you book a McHenry limousine service.
Your chauffeur will be available in the arrivals in the middle lane of the terminal and always stay close to Door "D". Once you gather your piece of luggage, Let limo companies kno. We will be there in 8 minutes. Book online O'Hare Airport transportation to get a fantastic travel experience with a comfortable ride at McHenry limo rentals with car seats, if traveling with kids.
MCHENRY LIMOUSINE TO & FROM MIDWAY AIRPORT
Black Car Everywhere can provide you with the best Limousine and car Service from McHenry, IL, To Midway Airport at a flat rate. You can utilize our Black Sedans, SUVs, Stretch limousines, and sprinters according to your family size.
Chicago Midway International Airport (MDW) is approximately 63 to 64 miles from McHenry, Illinois. We know the best traffic estimate, according to the rush hours. We can best recommend the best route with McHenry limousine, IL-53 Spur in Palatine Township from S River Rd, IL-176 E, and US-12 E/N Rand Rd. & Take IL-53 S, I-290 E, I-294 S, and I-55 N to IL-50 S/S Cicero Ave in Chicago.
Take exit 286 from I-55 N and exit 15A for Interstate 294 South Tollway toward Indiana for Midway International Airport Terminal 5700 S Cicero Ave, Chicago, IL 60629. Are you traveling for business or leisure? We prioritize providing quality Black Car and Limo Service to and from any part of the Chicagoland Area.
You will not regret hiring our trained, disciplined, and uniformed chauffeurs for McHenry limousine service, who have complete knowledge of the highways and local routes. Either you are booking your ride with a meet and greet or Curbside pick at Midway Airport. Your chauffeur always assists you with your heavy and sensitive luggage.
Are you Travelling with kids? 
If you are traveling with kids, let Black Car know in advance to our customer services agent or mention it in the online reservation. We can provide you Car seat and make your ride smooth and safe with our McHenry limousine service. Our Customer services are available 24/7 and monitor all the airport activities; thus, we share all the Flight Delays and Cancellations with the guests.
Midway Airport Pickup Procedure for Limo Rentals Service
Are you arriving at Midway Airport Or Departing from Midway Airport? No matter if you choose Southwest Airlines or Delta Airlines.
McHenry car service will always pick you up from the arrivals at Door 2 in the middle lane. Once you get your luggage, call our dispatch at (708) 770-0805 or directly contact the chauffeur. He/She needs 5 minutes to get there.
You can book Midway car service from Signature Airport and Atlantic Airport to any part of the Chicagoland area for special events, business model deals, and special occasions with various vehicle options.
McHenry car service can also provide services from Signature Airport and Atlantic Airport From McHenry, IL. Our driver will be at your location according to the pick up time.
McHenry Limousine Service TO & FROM PRIVATE AIRPORT TRANSFERS
We at Black Car Everywhere provide Professional Airport Transportation Services To and from McHenry to any private Airport. You can use our executive transportation for any private Airport Transfer. We make our prices affordable for the regular traveler, let us know if you travel a lot for your business.
Our Limo Company & car service can provide you with corporate discounts. Our Services are available from any part of  Mchenry County, IL, including all the surrounding suburbs. We always recommend our customers for the Pre-Schedule Reservation system.
We make it very convenient for our clients. You can book the services by visiting our website or calling us 24/7. No matter if you are traveling alone or traveling with a large group. We have a wide range of premium vehicles in different sizes.
You can get Sedans Services for 3 people and  SUV Services for 6 People. Let know us if you are more than that; we can provide you with the Stretch Limousine for 8 People and the Mercedes Sprinter for 12 people.
Are You Looking For The Taxi Alternative In Chicago Suburbs, Especially in McHenry, IL?
Call us for the best taxi alternative with Car Airport Car Service experience and a professional chauffeur. You can book us if you travel between McHenry County, Cary, IL, or Huntley IL.
Are you seeking a Car Service from McHenry, IL, to Dupage Airport? Black Car Everywhere can provide services 24/ with a Wide range of vehicles. We can enter the Dupage Airport gate and receive you directly from your charter.
If you need the Limousine and car Service from McHenry, IL, To Chicago Executive Airport, Call us 24/7 or utilize our online reservation system. We are familiar with Chicago Executive Airport. We can pick you up and receive you from the lobby or the main gate.
Black Car Everywhere can cater to your Limousine and car Service needs from McHenry, IL to Waukegan Airport with a professional chauffeur.
McHenry Limousine IL With Sedan & SUV's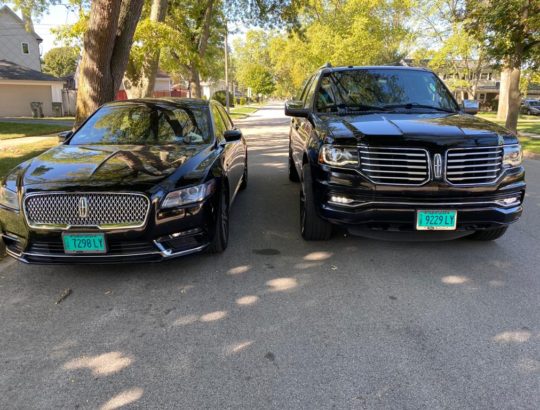 Our McHenry limousine service also covers Chicago and its downtown. This is the most significant business center and a major tourist destination. So, many people travel daily between McHenry, IL, and ORD airport.
We pick up and drop off travelers in McHenry, IL, residencies, offices, and hotels. Further, we provide suitable limo services for concerts and sports at special events. Moreover, we also offer hourly limo service for those clients who come for one day on business. Your limo will always be with you; contact your chauffeur when you are ready for the next meeting.
Limo service to McHenry hotels
After arriving at McHenry, you will want somewhere to spend the night. We know and have serviced all hotels in the McHenry, IL, area. Such as Hampton Inn McHenry. With our limo service, super 8 by Wyndham McHenry, Comfort Inn Crystal Lake – Algonquin, etc.
We provide a wide selection of private ride limousine services at Black Car Everywhere. They serve you from hotels in McHenry and the suburbs. This personal or shared limo service is very convenient. This service accommodates travelers on a budget, with full attention to detail service.
Limo Service for Corporate Transportation
We also specialize in providing Limousine Services in McHenry, il, for corporations. Based in Chicago and McHenry, we understand that cities are epicenters. It has over 4 million employees and produces approximately US$ 609 billion annually.
Understanding this reason, Limo Companies offer Corporate McHenry car service without any hidden fees. The service is available for entrepreneurs and all corporations in the city. We know whether it's an hourly service you are hiring for us or group transportation to a convention. You rely on us to be there and make you and your guests feel as relaxed and comfortable as possible.
The business is not a light element, as it is very exhausting. Even if an entrepreneur does not seem mentally tired, his mind is constantly calculating and working. So, he becomes tired mentally. But, people involved in the corporate field always need relaxation and comfort.
We understand that. With our Limo Service in McHenry, IL, we take pride in offering the highest standard and most luxurious limousines.
How to Find Your Driver at the Airport?
Please collect all your luggage from baggage claim and call dispatch at 708-770-0805. The information will alert you to the exact exit door and release your Chauffeur from the holding area. Your driver will meet you at Middle Lane according to your pick up time. If you cannot locate your driver or vehicle, please call us at 708-770-0805 to avoid the ''no show'' fee and get the best service.
Suppose a customer fails to contact us when they cannot find their driver's vehicle. The reservation will be considered a late cancellation. Hence, contact us if you want a trusted and reliable Limo Service in McHenry, IL.
Safety With Professional and Reliable McHenry Limousine Service
When you want McHenry Limo Service IL and its surrounding counties, we are confident that you will find our luxury and thoroughly sanitized services best in the region.
Our Disinfected prom and wedding bus service is available in different locations. Includes McCullom Lake, Pistakee Highlands, Prairie Grove, Johnsburg, and Bull Valley.