Luxury Car Service Chicago
Black car service is famous as a ground transportation service that dispatches luxury and managerial vehicles at pre-arranged times for pre-arranged rates. Black car service is provided to passengers with a licensed chauffeur as the driver. These vehicles are traditionally black in color.
If you are planning an event or pick-up in which you will be needing a limousine service, there are some very important factors that make up a professional, safe and reliable luxury car service. All the black car companies are different but our black car service in Chicago is offering certified and insured drivers, with good feedback, safe during pandemics, and gives travelers who require special needs for events.
If you want to explore Chicago city and suburbs in a comfortable and luxurious way then choose a private luxury car service Chicago is the ideal for you to get here and get a luxury car with a professional and trained chauffeur.
You do not need to get worried if you are traveling with your family and kids, luxury car service Chicago also offers a car seat for your kids of any age. You just need to inform the customer representative when reserving your ride that you are carrying kids with you so your car will be customized with a car seat at your doorstep.
CERTIFIED AND INSURED DRIVERS
Limo drivers are required to have a driver's license, as well as a regular driving license. The car service you hire should be insured and licensed. Most limo companies look at the insurance as an expensive tender rather than a concern for their clients, or you will get the lowest minimum of insurance that they can get away.
If the company proves that they are insured you can book them. If they are not able to prove it, don't book them. They should also be licensed according to state law.
Our drivers are professionally trained and chauffeur licensed to make your trip easy, safe, comfortable, and secure with your family. When we hire our chauffeurs we pass them through multiple tests such as driving tests, customer interaction and etc.
CLOSE TO YOUR PICKUP LOCATION
Most luxury cars also charge a fee on their way to your location, but our black Private car services do not charge any extra fees. The car which you have booked should be near to your location, and it should pick you up on time so you don't get late to the place you are heading to. Black car services in Chicago do not have any hidden charges.
Our chauffeurs are always available to serve you at your doorstep, we are 24/7 here to serve you with our great luxury car service Chicago. Whether you are landing at any airport in Chicago, our luxury cars are always available at O'Hare international airport, midway international airport, or any airport in Chicago. If you want to avail luxury car service Chicago so you just need to call us at (708) 770-0805 or visit our website and tab to the "book now" button fill in your trip details and you will get a confirmation email then leave everything on us.
We will be there when your flight is landing at the airport. We always track your flight status so also do not need to get worried about if your flight is getting late, we will track it and our chauffeur will be there according to your flight time and we will not be charged extra for flight delay.
GOOD FEEDBACKS
Our services have good feedback along with repeated customers. Check the car services website for feedback or our help page. See what our clients have reviews about us. Go with quality companies with great feedback from satisfied customers. We are also insured by the CDC.
Our clients are always satisfied with our services, our cars are always updated and tidy to serve you with the best services with trained and professional licensed chauffeurs who know your traveling needs, the car for you, and make your journey safe, secure, and comfortable.
SAFE DURING COVID
Due to covid-19 many viruses spread through both air and direct contact. Regarding health issues, ground transportation is the safest way of traveling as a wiser choice from a healthy safety perspective. Traveling in the middle of covid-19 and wondering what the transportation company may look once we are on the other side of the pandemic. It is not hard to come to the decision that the affordable and health safety offered by black car service may be necessary tomorrow as it is today.
BLACK CAR SERVICES ARE DIFFERENT FROM OTHERS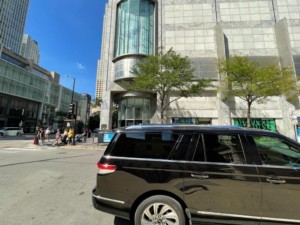 As a thought, both are linked up with a single driver and vehicle but our black cars are driven by professional chauffeurs. Mostly the other car drivers are not well-trained with no professional training. Black car services vehicles especially our black car limo service Chicago are sanitized and disinfected between each trip including front, back, and out. Other car services are not really meant to clean up the cars after the trip.
Here are a few essential things that matter a lot, you must concentrate on while deciding to choose a limousine company: A huge group of limos makes sure the business has a major variety of limos to provide on rent. Thus, we provide the best BLACK CAR SUV, We can understand your need, especially when you travel with your family and friends. Utilize our wide variety of Black Car vehicles. More variety means you'd get more options to select from. Just having a big fleet of limos isn't enough too. Our aim is to provide, Latest vehicles with a professional chauffeur.
The best way to hire the Black Car Service must check out your mates who've rented a limousine before and ask them if the company hiring for business purpose or for airport transfers, limousine drivers are those the company you select provides experienced, well-trained, and well-behaved limousine drivers. If you want to book our luxury car service Chicago to explore Chicagoland and its suburbs so call us or visit the website's "book now" page.