Luxurious and Affordable Chicago Black Car Service for hire in 2020
There are many black car services today in the world of executive luxury travel. Choosing one is quite hard and tough, you quickly get annoyed and clueless about making the right choice. If you are looking for the best and affordable Chicago Black Car Service.
Black Car EveryWhere prides itself on offering a range of exclusive black cars, with a different variety of transportation, according to the clients budget, the salient features of our black car services include, all of our cars are not just pleasing to look at but also take your ride to the entirely new level of joy, excitement, and luxury
We can understand our client's privacy when they are talking on the phone, our chauffeurs are trained to understand their facial expirations and body gestures in order to fulfill their demands.
Our main aim is our client's satisfaction, especially when, the customer has a lot of luggage and looking for a chauffeur's help inside the airport, we are here to serve inside the airport for a meet & greet service, where our chauffeur will wait for our client while holding their name sign on their right terminal and gate.
We can understand the weather and airline situation, especially when the flights are early or delayed, our chauffeur is trained, how to track and follow-up the flights, we are not only good at safety and reliability but also focus on the very good relationship with our clients.
High-End Luxurious Black Cars
We have a wide range of black car vehicles to choose from Black Sedan or SUV, such as Lincoln Continental, Cadillac XTS, Mercedes E350, Lincoln MKT, and GMC Yukon. We also provide on-demand vehicle selection. If you have any preference, let us know and we will book it for you. Just to remember for a custom choice book in advance.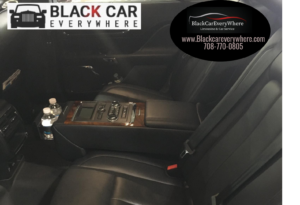 Professional and Trained Chauffeurs
Professional and trained Chauffeurs are another reason of selecting a luxury black Car Service, our black car services are not like a taxi or normal Uber drive where you travel with just a random person.  On the contrary, you travel with highly trained and professional Chauffeurs, who will be available right there waiting for you.
You will be serviced in highly professional and elegant manners. First of all, you will be provided with a Sanitizer to ensure your complete safety. The Chauffeur will open the door for you. The complimentary drinks and snacks will be served. All these luxury and exclusive features make it a perfect choice for a person like you. Get a quote now and plan a dream ride.
Exclusivity and Style
We not only offer black car service but also exclusivity and style with the ride. You want to go for a party, business meeting, or date and want to leave an impactful impression, get our black car service with styles and exclusivity.
We never disappoint you and make it the most exclusive ride of your life. Treat yourself differently with the blend of style and luxury by traveling in our exclusive black car service.
High-Class Black Cars on Budget
We have taken luxury black car travel to the entirely new level with our price tag, because of the low operational costs, we keep the budget low, there is a common misconception that luxury black cars are always expensive, however, we have brought exclusivity, style, and luxury to the lowest possible rates in Chicago.
If you are planning to travel with the Chicago or outside the Chicago, get a quote now and enjoy the luxurious ride you ever had!
Our cars have always been the most prioritized choice of executive travelers in Chicago. You should always trust us. We never let down your expectations of the luxury ride and exclusive travel experience.
Get a quick quote or book now to enjoy a dream ride with Black Car EveryWhere in Chicago. Traveling around Chicago in a comfortable black Cars and staying in a complete Corona Free environment.
You can find us on different social platforms and business listings,