HOURLY LIMO SERVICE IN CHICAGOLAND
We proudly offer our hourly limo service in Chicagoland and near areas, we also provide our hourly limo service from or to O'hare and Midway airport with our top-class fleet and outstanding limo service with highly trained chauffeurs to make your trip safe, secure, and comfortable.
 Are you looking for an Hourly Limo Service In Chicagoland?
Book reliable Services at Chicago OHare Airport, and Chicago Midway Airport. And Chicago and its Suburbs.  Will work on the Services which are ready to meet your expectation. Serve you with your dream car transportation facility. With hourly limo service in Chicagoland.
Offering Hourly Limo Service In Chicagoland
Most limousines have no less than 3 hours of service rental. Typically, an hour rental isn't being considered. If you're planning for your wedding. We would like to offer you an hourly limo service in Chicagoland.
You'll have to allocate a spending budget for your vehicles. Booking limousine solutions are the perfect way to make your own wedding a perfect one.
Usually, the wedding rental bundle runs from $250-$500 to 3 hours of support. It is dependent upon the type of limousine you choose. Many companies will offer you hourly limo service in Chicagoland. The service level is different; there are several exotic vehicles. that you could pick for your wedding however it costs much higher.
Hourly Stretch Limo Service in Chicago
Conventional Stretch limos run approximately $250-$350 for 3 hours of support. Stretch SUV could be rented for approximately $500-$1, 000. So it is down to you that limousine kind you need and needs for your wedding. If you wish to use an hourly limo service in Chicagoland for your wedding. Then shop for limousine service 9 months ahead of the date of your wedding.
In order to find the car of your choice, do not postpone your search for the correct limousine you need and want. Consider your wedding celebration, will it fit in a limousine? Counting the people who'll ride the limousine is very important. As to know precisely what type of limousine you need to book and what number of limos you need to rent.
Hourly Wedding Limo Service Chicago
At a wedding, we would always recommend hourly limo service in Chicagoland. undoubtedly. You and other commuters will be sporting formal attire, so you don't wish to squeeze in one limo. There are many limo providers, so contact a few of these firms. Ask, ask all the necessary questions and choose from there.
Pick a company that may provide you with the best service you require for your wedding. Don't simply go to a certain limousine company and book a limousine. It is best to visit or contact a number and compare. In doing so, you can select the one which can provide you with great service and wonderful service.
Definitely, you'll spend money on booking a limousine. So you've to assure yourself that you're getting the best out of your money. Consider the quote from a few companies about hourly limo service in Chicagoland and then do the final decision.
Organizing a wedding requires a great amount of work, so take the time in organizing everything to make it perfect. If you're thinking of a wedding date, it'd be better to pick a date that does not fall in the springtime. This is the prom season, which means the requirement for limousine service is high.
So if you wish to gain lots of choices and may find the limousine that you would like. it's sensible to steer clear of these dates. However, in the event, it falls in spring. The limousine service alternatives require 8 hours minimum along with the rates. Are 30% higher.
So it's recommended to shop for limousine service 1 year before your wedding date. Book your next hourly limo service in Chicagoland with Black cars everywhere limousine & car service. We offer a 15% discount if you book your required vehicle in advance.
Hourly Chauffeur Service in Chicagoland
We are offering a variety of Chauffeur services as per your requirement. I would like to discuss a few of them.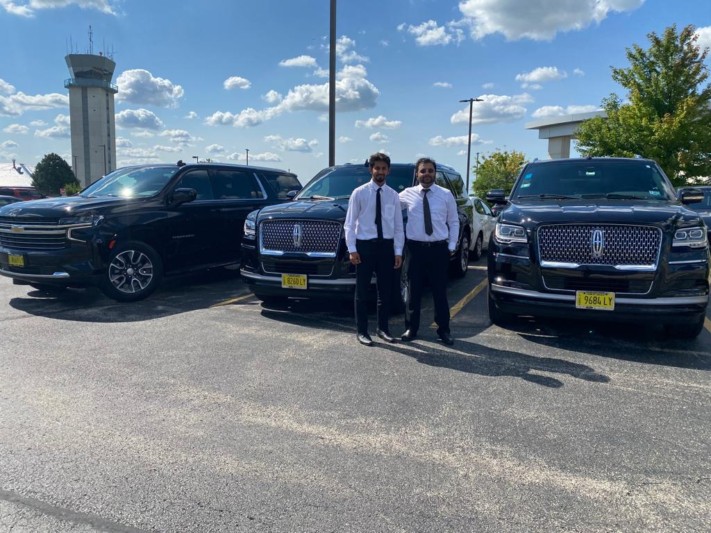 Our most famous one is our hourly limo service in Chicagoland. Sometimes when guests are looking for Airport Transfers. Then we offer them the private hire chauffeur. Chauffeur driver, and personal chauffeur and also offer 20% discount. when they book a trip.
We always try our level best to offer discounted prices. Our representative proactively communicates with the customer. and informs them of the ongoing discounts and promotions. We have multiple of many other transportation facilities according to the client's demands and needs.  Contact us for the most Affordable per-hour car service.
Black car Everywhere can be the best choice if you are looking for a high level of hourly limo service in Chicagoland. Our service is available in all the surrounding suburbs. Northwest suburbs Hourly Limo service. Southwest suburbs Hourly Limo service. West suburbs Hourly Limo service, and Chicago area Hourly Limo service.
Hourly limo services are considered the most compatible option for your flexible transportation needs. Stay free and in comfort. Enjoy great peace of mind with Black Car everywhere hourly service.
Go wherever you want; drive your car as per your choice. We put our best to make your travel comfortable and stress-free. Regardless of the nature of your event. We provide a perfect vehicle that could offer a hassle-free travel experience. Book an hourly limo service for corporate. wedding, sporting event, anniversary as well as any other need. Reserve a Limo Car.
As a leading limo rental company. Black Car Everywhere offers you the perfect limo with top-class chauffeur service. We provide nonstop world-class customer support. Our booking system is very simple. Below is a screenshot of the hourly limo service in Chicagoland.
Not only a limo car, but you can also enjoy all of our vehicles including sedans, SUVs, limousines, and others on hourly services. Make a call or drop an email by mentioning your schedule; your favorite car will be on your doorstep.